OW2 is an independent open source community committed to making available to everyone the best and most reliable enterprise computing infrastructure software, including middleware, application platforms and cloud computing technologies. The mission of the OW2 Consortium is to develop a code base of open source software and to foster a vibrant community and business ecosystem. Every year, OW2 organizes a conference bringing together; experts, software architects, developers and open source project managers. OW2con'19 will take place on June 12th and 13th at Orange Gardens. The central theme of this edition is: "Open source: towards industrial maturity".
The mergers announced in 2018, such as the acquisition of Red Hat by IBM or GitHub by Microsoft representing between them more than 40 billion dollars, show that open source has reached maturity. Open source projects are becoming more and more competitive and critical, and actors in this field are mobilizing to define an open source strategy.
The following topics will be covered: privacy and security, blockchain, AI, accessibility, open cloud, IoT, enterprise application platforms, Big Data and BI, software quality and market readiness, infrastructure automation, business models and project governance and open source in Big Cities.
Orange will be represented by numerous experts:
Christian Paterson, Head of Orange Open Source Governance, will participate in a round table on the issue of industrial maturity and open source governance.
Bruno Dillenseger, R&D IT engineer, will show how CLIF, the load testing and performance measurement tool, saved the benchmarking campaign of Orange's new national IoT service "Connected Home".
Christian Bayle, RD Engineer and Jean-François Vincent, Project manager,will present the new version of the free single sign-on software for Web applications: LemonLDAP :: NG 2.0, as well as success stories based on this software.
Silvério Santos, Senior Service Engineer, Open Source Referent – Orange Business Services, will explain the value of open source for an organization and its influence.
Find the full conference program
OW2con is open to everyone, the event is free and conferences will be held in English.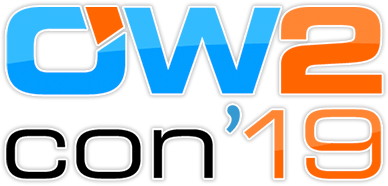 Orange Gardens Innovation Center,
44 Avenue de la République, 92320 Chatillon
June 12th and 13th, 2019
More info: www.ow2con.org